What is this thing called 9Stucks?
9Stucks is a dynamic business diagnostic tool. It identifies nine distinct yet interrelated business challenges that cause a company to underperform.
10/14/2014 By Jim McHugh Leave a Comment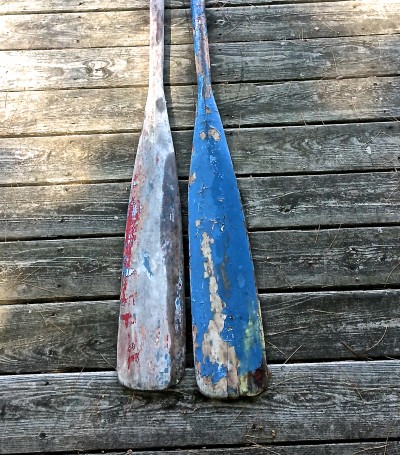 This is a picture of my 55+ year-old wooden oars after I opened up our boat this past spring. They looked pretty beat up: chipped and peeled paint…cracks in the wood…and they were graying at the edges.
Were they past their useful life? Would I need to replace them with a brand new pair?
Before trashing them, consider this –> these oars have a rich history that you could never imagine by catching a glimpse of them lying on a dock or in the bottom of a boat.
These oars have done their job quietly and well in rowboats, dinghies, motorboats and sailboats. The type of boat didn't matter to my oars.
They were always there when I really needed them.
Doesn't that sum up a good mentor, senior advisor, or board member? Versatile and at the ready when you need their capabilities.
I've been mingling with a large number of established company directors and startup mentors over the last few months. The director crowd was at the 2014 Private Company Governance Summit and the mentor crowd was at the MassChallenge Accelerator Program. MassChallenge runs a 'mentor matching' series of events to connect mentors and entrepreneurs who have been selected to be in the startup program.
Hello Founder, Hello Mr. Oar!
The MassChallenge matching events are quick. Founders pitch their company and describe their needs and the mentors rattle off their curriculum vitae in about 5 minutes. Imagine the scene…the founders are staring at the oars pictured above (aka 'yours truly'). I can quickly tell the ones who look at the oars with disinterest or indifference. Translation: "I want oars that are slick and shiny." Others, who may be a bit more intuitive, can sense what is underneath the oars' rich patina, and their reaction might be: "I wonder if the experiences or history that created the chipping or wear and tear could be helpful to me."
My oars have had 5 major roles over their 55 year life:
Providing Propulsion
Enabling Exploration
Creating Fun
Fixing Mistakes
Being At The Ready
Providing Propulsion: My parents started boating with a wooden homemade rowboat and these oars when I was a young boy. The oars were new and had a fresh coat of marine varnish. Want to go from point A to Point B? It was either get out and swim or use the oars! Rowing took practice, but I learned to get it right.
Enabling Exploration: I loved to poke around the inlet on Cape Cod where our cottage was located. It was a fairly expansive body of water so I had many places to scout out and investigate. After a while, my parents invested in a small outboard engine so boating became much easier; however, the oars allowed me to reach down and check the water depth, navigate the shallows, get around sandbars and push through eelgrass when the tide was uncooperative. The oars extended my reach.
Creating Fun: Ever used oars to whack at crabs (I was just a kid…don't call PETA) or do some serious splashing? I used to splash my girlfriend ("…don't do that again!" "OK… splash!") Note: she still married me…and I splashed her again this summer.
Fixing Mistakes: The oars have helped me recover from boating mistakes (also known as 'running aground') and set off on a new, better course. Luckily for me, the Cape Cod waters I frequented were forgiving…sandbars and muck, no piles of rocks like Coastal Maine or Lake Winnipesaukee.
Being At The Ready: Our boat now has a 150HP Evinrude ETEC engine and the oars quietly and patiently wait in the boat to 'be at the ready'. They are there as backup power, a safety net, to fend off another boat or to help to a water skier who needs a steady object to grab.
Advice to founders and CEOs: Quality, reliable mentors provide startup propulsion, help management teams explore new directions and uncharted waters, inject fun into occasional tough days, offer turnaround advice to fix navigational mistakes, and are there when the founding team needs a steady hand to grab. As a bonus, they are chock full of stories!
P.S. I thought the oars needed a bit of TLC this summer. Here is the new look!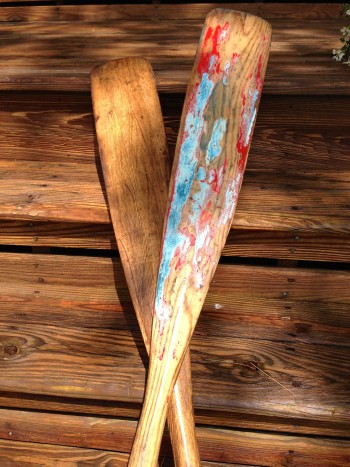 Read More
05/21/2013 By Jim McHugh Leave a Comment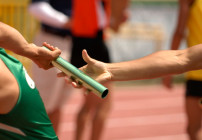 I ran outdoor track both in college and high school. Since I was a fast runner (back in the day) I always ran one of the legs of the 4×100 and 4×200 relay teams. Our relay teams practiced daily on perfecting the handoff – passing the baton. We had the relay leg transitions down pat. Unfortunately family-owned businesses may not plan for a leadership transition and may bungle, delay or simply avoid the handoff to the next generation of family leaders or to non-family executives.
This is the mid-point in my multi-part series that explains how 5 particularly disabling conditions unique to a family business can exacerbate business underperformance.
This post is about companies with non-existent succession/transition plans. When owners can't or won't let go, four of the 9Stucks (Ditch, Moment, Slow Lane, and Another World) get really amped up and push the stuck company into a deeper hole.
Family company leaders often stay in their roles too long.  But staying too long is not the problem; being in a zone of leadership indecision creates troublesome ripples throughout the entire company.
FamilyCo was one of my stuck manufacturing clients. I was hired by the company/family to do a 'fresh eyes' assessment of their business. The company wasn't in trouble but it had hit a wall and was stagnating. It didn't take me long to figure out there were issues with the senior team, the company's competitive position and a number of important operational functions.
The children told me: "Dad was the driving force to get the company to where it is today, but now we think he has blinders on; he doesn't acknowledge all the changes in the industry, the shifting customer demands or the need to upgrade our facilities, systems and equipment. He is living in the past. You (me) need to talk to him about letting us run the company."
Read More
Filed Under: Another World, Ditch, Governance, Leadership, Moment, Slow Lane Tagged With: Bill, Board Of Directors, Business Part, business transition, CEO, entrepreneur, Family Business, Family Companies, Family Leader, Family Owned Business, Family Owned Company, Leadership Transition, ownership, private company boards, succession planning, Transition Plan