What is this thing called 9Stucks?
9Stucks is a dynamic business diagnostic tool. It identifies nine distinct yet interrelated business challenges that cause a company to underperform.
05/21/2013 By Jim McHugh Leave a Comment
I ran outdoor track both in college and high school. Since I was a fast runner (back in the day) I always ran one of the legs of the 4×100 and 4×200 relay teams. Our relay teams practiced daily on perfecting the handoff – passing the baton. We had the relay leg transitions down pat. Unfortunately family-owned businesses may not plan for a leadership transition and may bungle, delay or simply avoid the handoff to the next generation of family leaders or to non-family executives.
This is the mid-point in my multi-part series that explains how 5 particularly disabling conditions unique to a family business can exacerbate business underperformance.
This post is about companies with non-existent succession/transition plans. When owners can't or won't let go, four of the 9Stucks (Ditch, Moment, Slow Lane, and Another World) get really amped up and push the stuck company into a deeper hole.
Family company leaders often stay in their roles too long.  But staying too long is not the problem; being in a zone of leadership indecision creates troublesome ripples throughout the entire company.
FamilyCo was one of my stuck manufacturing clients. I was hired by the company/family to do a 'fresh eyes' assessment of their business. The company wasn't in trouble but it had hit a wall and was stagnating. It didn't take me long to figure out there were issues with the senior team, the company's competitive position and a number of important operational functions.
Some facts:
Jack (second generation) was the CEO and the son of the founder; at age 70 he worked full time at FamilyCo
Jack's 2 children (son and daughter) both worked for the company. The son (Bill, age 42) ran operations (manufacturing and engineering). The daughter (Susan, age 40) was head of marketing. Bill and Susan worked well together.
Sales was led by a non-family member and he reported directly to Jack. In the last few years, the sales team had experienced significant turnover.
The CFO was also a non-family member and had worked for Jack for many years. He was nearing retirement. His duties included many administrative functions and human resources.
There was no Board of Directors/Advisors
The children told me: "Dad was the driving force to get the company to where it is today, but now we think he has blinders on; he doesn't acknowledge all the changes in the industry, the shifting customer demands or the need to upgrade our facilities, systems and equipment. He is living in the past. You (me) need to talk to him about letting us run the company."
Okay…now what?
Read More
04/23/2013 By Jim McHugh Leave a Comment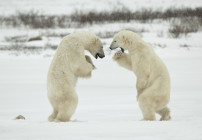 Innovate and grow or maintain the status quo?
The process of making this basic strategic choice can be an exciting journey forward, or a source of conflict in a family-owned company.
Why? What causes a family company to be frozen in its tracks over this fundamental question? And what can be done to thaw the ice, or better yet, prevent the business from becoming Stuck in the Moment?
You may be thinking…'Conflict among the shareholders of a private company over strategic direction is common and good.' You're right! Debate over the best go-forward strategies and tactics can be healthy and productive. In companies that are not family owned, the conflict tends to resolve itself in a timely and orderly way. This is especially true in companies with outside institutional investors who don't tolerate indecision for extended periods of time.
In some family-owned companies, the strategic discord festers and lingers. A 'strategic fog' permeates the boardroom, family gatherings and the company's hallways and cubicles. Critical decisions are delayed and significant opportunities ignored. The disagreement can go dormant but then suddenly explode. This can be debilitating to the business and to the shareholders.
What has always intrigued me is not the presence of a rift over the strategic direction of a family business. My question is why the conflict becomes so pervasive and common.
Read More
Filed Under: Governance, Leadership, Management, Moment, Strategy Tagged With: Board Of Directors, Family Business, Family Companies, family conflict, Family Legacy, family owned, family owned businesses, Family Owned Company, private company boards, strategic choices, strategic decision making